English
TSURUKICHI YOKAN IN ATAMI CITY

Greeting
We are the sweet bean jelly store which has been a purveyor of Izusan Shrine, known as the god of conquering the whole country.
In Atami, I have inherited the family business of four generations from my biological great grandfather and the founder, Tokiwagi Yohkanten is still just a small Japanese sweet confectionery in Izu.
That is why we are striving to become the No.1 sweet bean jelly store in Shizuoka Prefecture, by learning from the famous stores and continuing to refine our creativity and techniques as best we can.
The "Tsurukichi Yokan" has been named after the founder. Our goal is to make it recognized by everyone in the country someday.
We are a Japanese traditional sweets store
with more than hundred year of history.
Since all our products are handmade,we might not be capable of mass production.
Instead,we aim to produce our products carefully and passionately,one by one.
We would like many people to experience our traditional sweets.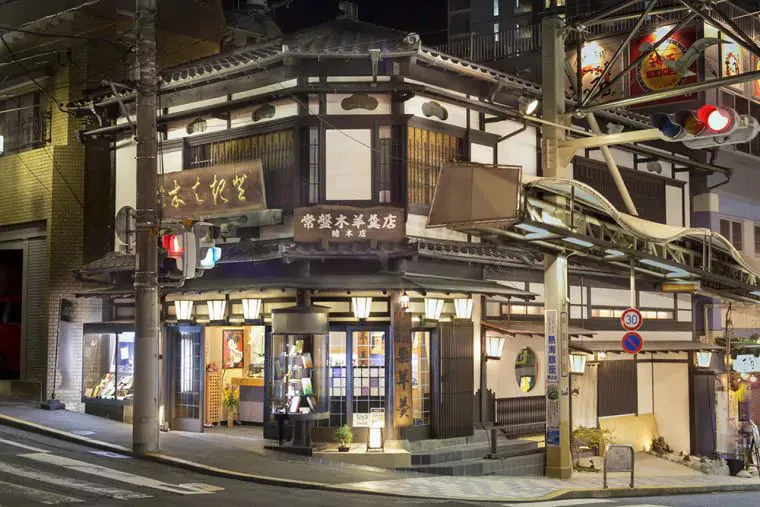 Tokiwagi Yokanten Pte. Ltd
9-1 Ginza-cho, Atami-shi, Shizuoka-ken Japan 4130013
Three reasons you should buy YOKAN when you come to Atami【2021】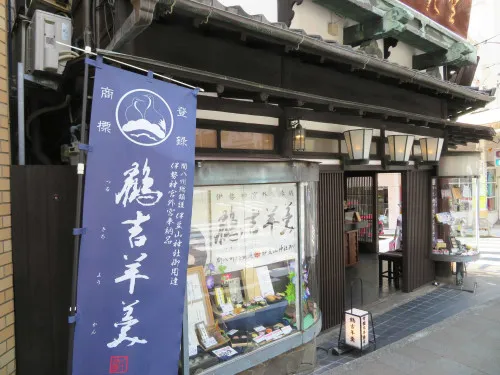 1. It is a Japanese traditional confectionery
It is a traditional confectionery developed with Japanese tea ceremony.
Moreover, since it can be stored for several months at room temperature, it can be left in the suitcase until the day you return home.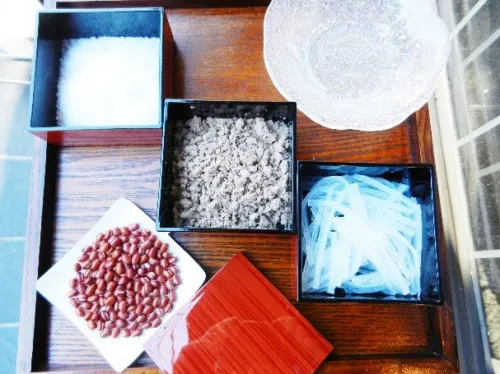 2. It is a healthy gluten-free, and vegan confectionery
The basic ingredients of Tsurukichi Yokan are sugar, red beans, glucose syrup, agar, flavors, and no flour.
Unlike jelly, it is very healthy because it uses vegetable agar.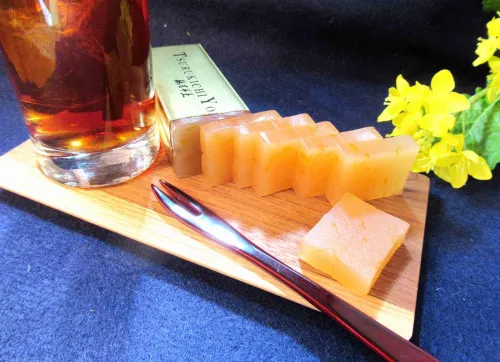 3. We use Atami specialties and have won the Governor of Shizuoka gold prize
The only confectionery that has won this gold prize in Atami is the "Tsurukichi Yokan (橙daidai)".
Yokan in a golden color package looks like a gold bullion, and this is appreciated as a gift.
Enjoy Japanese style with unsweetened green tea, black coffee or black tea.
The Japanese eat it by cutting it into 2 to 3 cm lengths, but if you find it too sweet, you can cut it into thin pieces that are 5mm to 1cm.
Tsurukichi Yokan "daidai"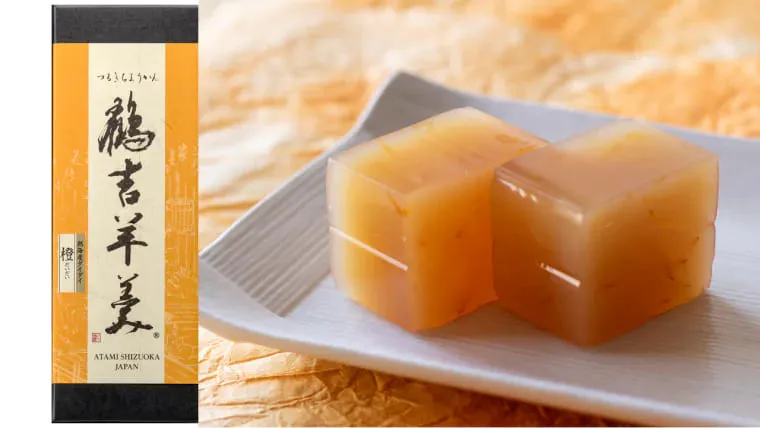 What is "daidai"?
It's a fruit in tangerine species, which has most harvest amount in Japan here in our Atami city!During winter, the fruit turns to "daidai (orange) color" and then goes back to green without falling from the tree.
Then, it turns back to orange color again next year. It is believed to bring success, and is used as decoration on New Year's rice cake or New Year's door decoration.

It is hard to find any other Yokan made with such high quality red bean paste.
We also use the finest,Ministry of Agriculture,Forestry and Fisheries award-wining string-type agar in this Yokan.
We use the highest quality finely granulated sugar to create its rich flavor.
The yokan received the Monde Selection Silver Award,certifying the quality of our products.
1,950 yen(net 230g)
Hon-neri(Red bean paste) Yokan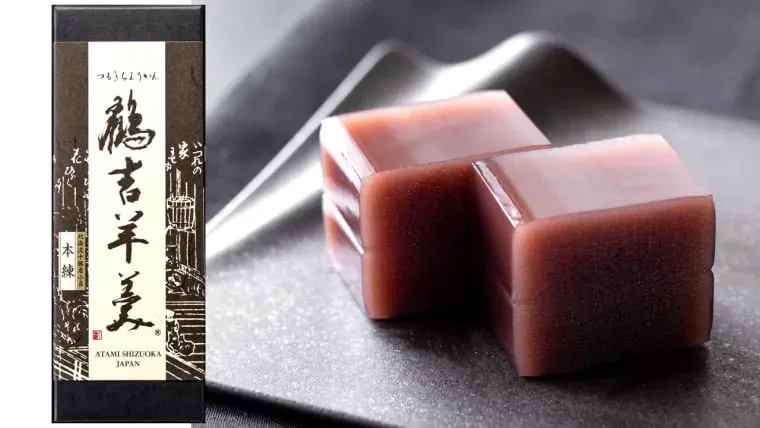 International Taste&Quality Institute Award(ITQI)

Thanks to Hokkaido's high quality red beans and the finest string-type agar with an award from Ministry of Agriculture,Forestry and Fisheries used in this Yokan,it successfully received specila award from Japan's Tourism Agency(JTA)commissioner at "Japanese Sweets Exhibition".

1,950 yen(net 230g)
YUZU Yokan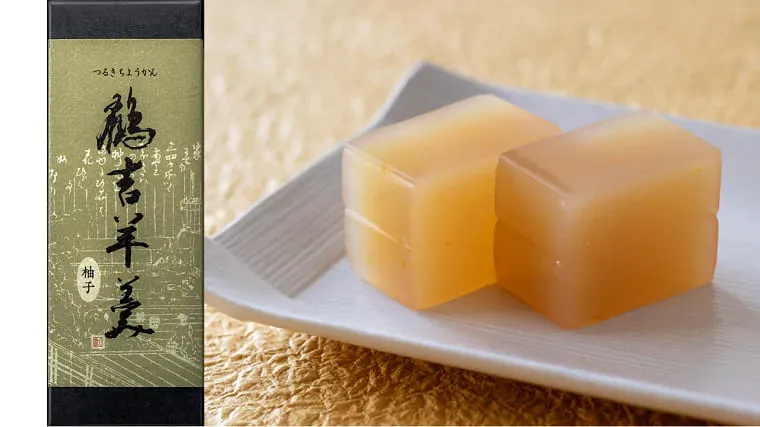 We grate fresh yuzu skin and squeeze its juice for seasoning. Because we use plenty of yuzu, the aroma of this yohkan is different! For those of you who know and don't know yuzu, please give this a try!
2,500 yen(net 230g)
What is Yuzu?

One of Japanese citrus fruits which has less sourness than lemon but mild and pleasing aroma. In Japan we use yuzu to dress Japanese food and in winter we put it in bathtub and enjoy hot bath.
Matcha Yokan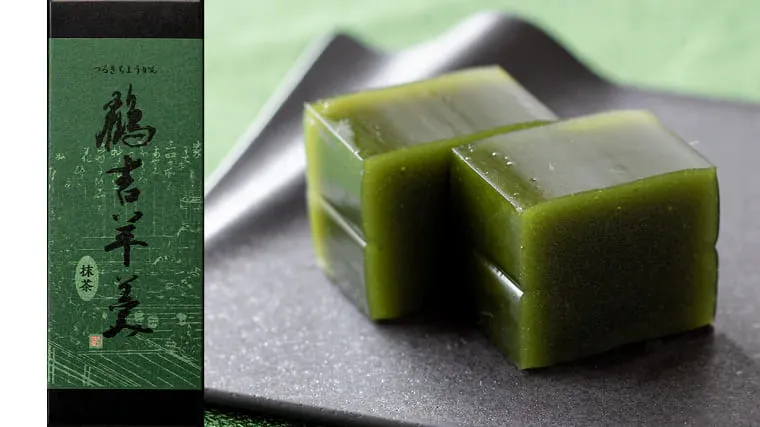 This yokan uses green tea powder from Japan's number one tea production center, Shizuoka prefecture. We use not extracted green tea but hand-milled green tea powder, therefore you can enjoy the rich flavor of green tea.
2,900 yen(net 230g)
MACARON MONAKA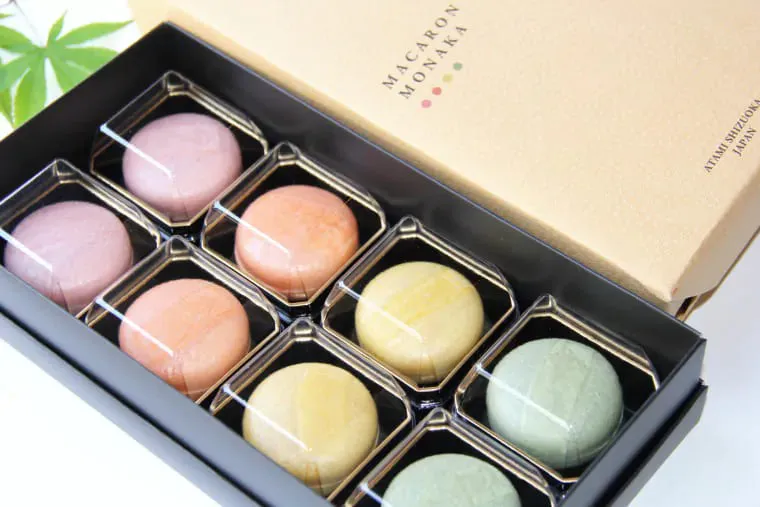 One of the most popular sweets ammong Japanese people is "Monaka",which is made of rice(glutinous rice).

A monaka is a sweet with an bean paste filling, sandwiched between two wafers.

The wafers are typically square in shape and light brown in color. But this treat, by our shop in Atami, Shizuoka Prefecture,looks like the famous French macarons,as the name indicates.
This round sweet is in four colors and flavors.

2,960 yen (8pcs/box) 1,580 yen (pcs/box)

Expiration date: 7 days at room temperature
Star-shaped Monaka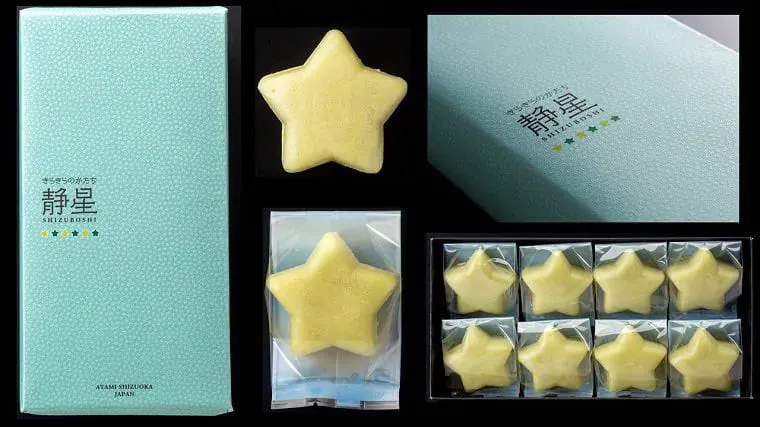 A type of summer mandarin called "New Summer Orange" harvested in Izu. It has a refreshing flavor similar to lemon and grapefruit but without the bitterness. This is a Monaka with a White bean jam that has this fruit peel. Sold loose. Each one is priced at ¥550
4,600yen (8pcs/box)
Heart-shaped Monaka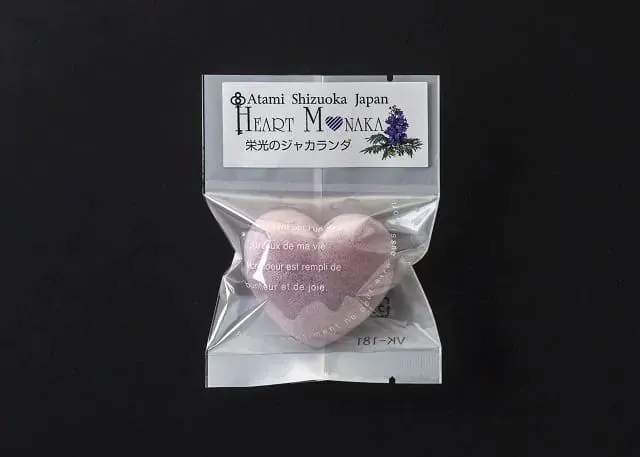 A Monaka with purple yam bean jam inside. The expiration date is one week in room temperature. Storing in the fridge may cause condensation in the package due to the difference in temperature when taken out and the crust may become humid. It is recommended to store in normal temperature.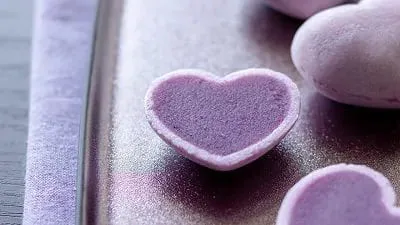 うぐいす餅

/Uguisu-mochi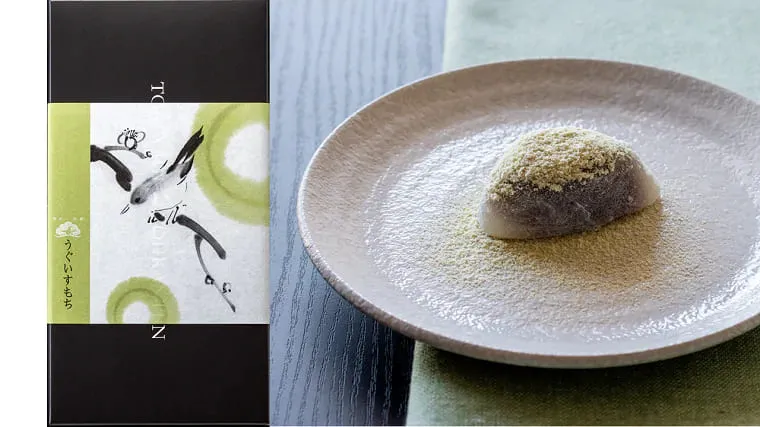 This sweet is made by adding water to rice flour and sugar and then heating. The mixture is kneaded (making gyuhi), which is wrapped around adzuki koshian. Both ends are tapered into points (depicting the shape of a Japanese bush warbler), and then green kinako (soybeans that have been roasted and ground into powder) is sprinkled all over.
Each one is priced at ¥550
4500 yen (8pcs/box)
きびもち

/ kibi(Rice cake with millet flour)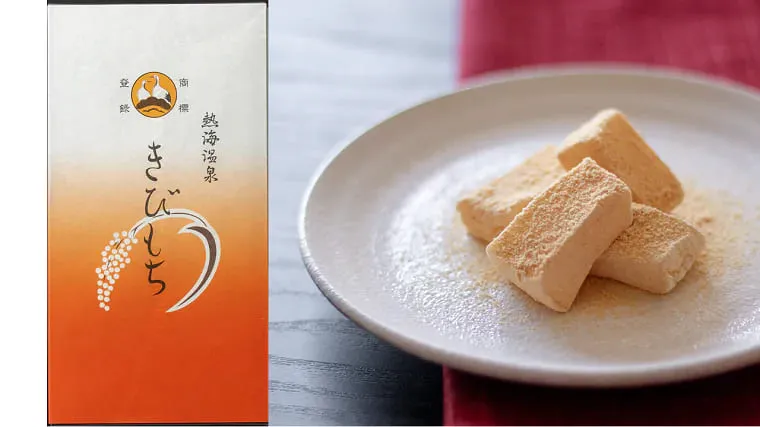 It is a confectionery made by adding water to Rice flour for dumplings (powder made from Japanese glutinous rice) and Millet flour (powdered grains rich in minerals and dietary fiber), and steaming it to make dough and adding sugar and starch syrup to it to make sweet rice cake, and covered with Kinako (soybeans roasted into powder). Kibimochi is an area-limited Japanese sweet that is only available in Atami and neighboring towns. Because no preservatives or colorings are used, the expiration date is 3 days at room temperature.

As it is soft and easy to lean, keep the box horizontal when taking home.
550yen each.
8 for 4500 yen.